April 29 - The Community Launch Edition
MLCPL Quaranzine is a weekly collection of creative works from the Mary L. Cook Library community that document how we responded to our life in quarantine. Submit your own work for the next issue today to Sarah Ryan at ryansa@marylcook.com.
Eva Bowman, "Spring Reflections" - Spring art painting with chalk pastels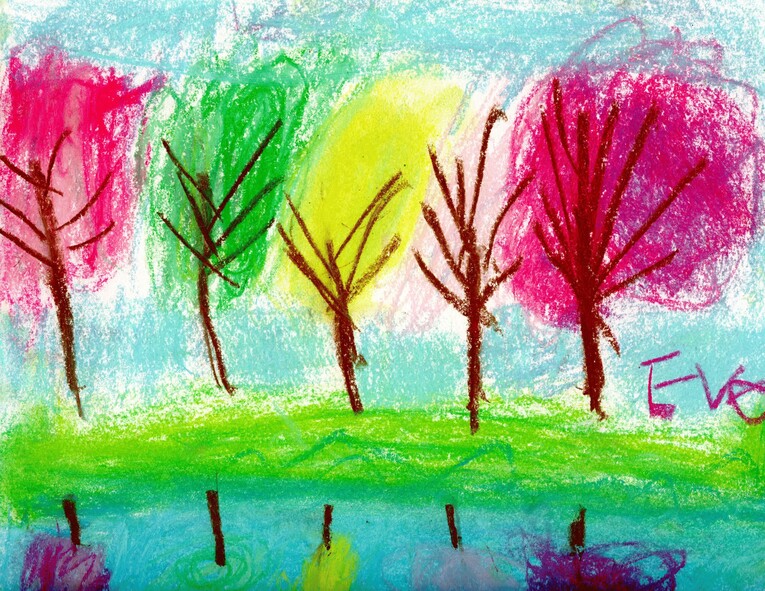 Abby Welch, "Toilet Paper" - This poem was based off Shel Silversteins' poem called " Sick."
"I can't go potty today"
Said little Annie May
I have no paper
No! I'm not gonna use a wafer
My rump is dry 
No! I'm not gonna use rye
I looked in the cupboard
All I found was mustard
I looked at the wall
All I found was a doll
I'm running out of my wafer thin
There's not even any in my tin
What's that  you say
There's some "Angel Soft" at walmart
Bye, I'm off to get my toilet paper 
Kathy Daniels, "Bread in a Bag"
I love to bake when I have the time.  Well, I now have time.  So I have been baking lots during this coronavirus pandemic.  I enjoy making bread.  There is something comforting in the smell of fresh yeast and in watching it proof.  I love kneading bread, what a stress reliever. Family and friends have been receiving carefully wrapped and sanitized treats in the mail or on their porches.
I have some many different bread recipes in my collection and always on the hunt for something new to try.  The following recipe is one I made for my Rapid Readers book club a few years ago when we read The Boxcar Children.  This recipe is easy to put together and tasty.  I hope you give it a "knead"
Bread in a Bag
Yields: 2
Prep Time: 0 hours 20 mins
Total Time: 1 hour 20 mins
Ingredients
Cooking spray, for mini loaf pans
3 c. all-purpose flour, divided
1/4 c. sugar
1 .25-package active dry yeast
1 c. warm water
3 tbsp. extra-virgin olive oil
2 tsp. kosher salt
Directions
Preheat oven to 375º and spray mini loaf pans with cooking spray. In a resealable plastic bag, place 1 cup flour, sugar, and yeast and add warm water.

Seal bag and squish together with your hands to mix. Let rest 10 minutes at room temperature. (Yeast should activate.) Add 1 cup flour, oil, and salt to the bag, then seal and squish together.

Add remaining cup of flour and mix until combined. Remove from bag and knead 5 minutes until smooth. Halve dough and place in two loaf pans. Cover with a kitchen towel and let rise 30 minutes.

Brush top of bread with olive oil or melted butter and bake until golden, about 30 minutes.
Katie (Weyler) Heminger, "Charlie Tractor Stays at Home"
Charlie loves adventure and visiting his grandparent's farm,
But there was a virus that could cause his grandparents harm,
So Charlie had to stay at home.
Schools, parks and restaurants closed, so Charlie didn't have any place to roam.
What was Charlie supposed to do?
Not being able to see his friends, made Charlie feel blue.
But Pickles his dog still wanted to play,
So Charlie and Pickles had a great day!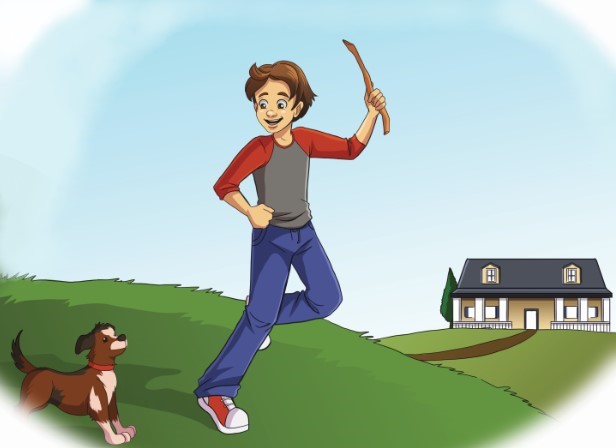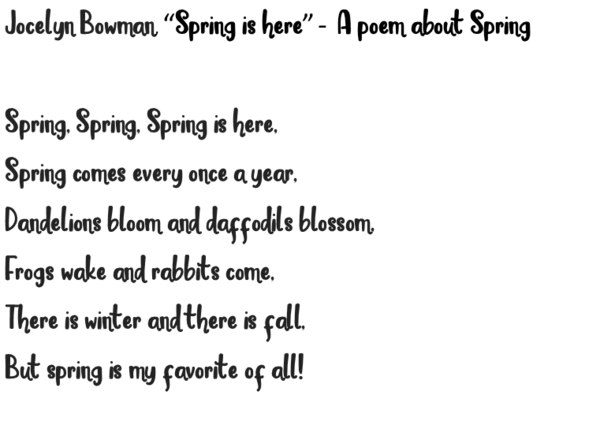 Celeste Ryan – "Surfing the Internet PB & Chocolate Chip Cookies"
I saw this recipe on the Good Morning America website, a recipe from Joanna Gaines of the Fixer Upper TV series. I changed it a little bit to fit what my family would like.
Ingredients:
1 cup (2 sticks) unsalted butter, at room temperature
1 cup packed light brown sugar
3/4 cup granulated sugar
2 large eggs
2 teaspoons vanilla extract
2 cups all-purpose flour
1 teaspoon salt
1 teaspoon baking soda
1 1/2 cups rolled oats
1 1/2 cups semisweet chocolate chips
1 12 cups peanut butter chips (I think Heath chips would be good too)
Directions:
Preheat oven to 350. Line 2 or 3 baking sheets with parchment paper.
Cream butter, brown sugar and granulated sugar on medium speed of mixer until light and fluffy, about 4 minutes. Reduce speed to low and add eggs one at a time, beating until blended after each addition. Add the vanilla and beat until well blended.
In a medium bowl, mix together the flour, salt, and baking soda. Slowly add the flour mixture to the butter and sugar mixture and beat until well blended. On low speed, add the oats, chocolate chips and peanut butter chips. Mix until well blended.
Scoop about 2 ounces of cookie dough into a ball onto prepared baking sheets leaving about 3 inches between cookies. This should make about 20-22 cookies, yes they are big cookies! Refrigerate dough on sheets for at least 30 minutes.
Bake in batches, leave each sheet in refrigerator until time to bake it. Bake until browned, 13-15 minutes. Let cool on the baking sheet for 10 minutes before removing to cooling rack. Cool completely, then store in airtight container for up to 5 days.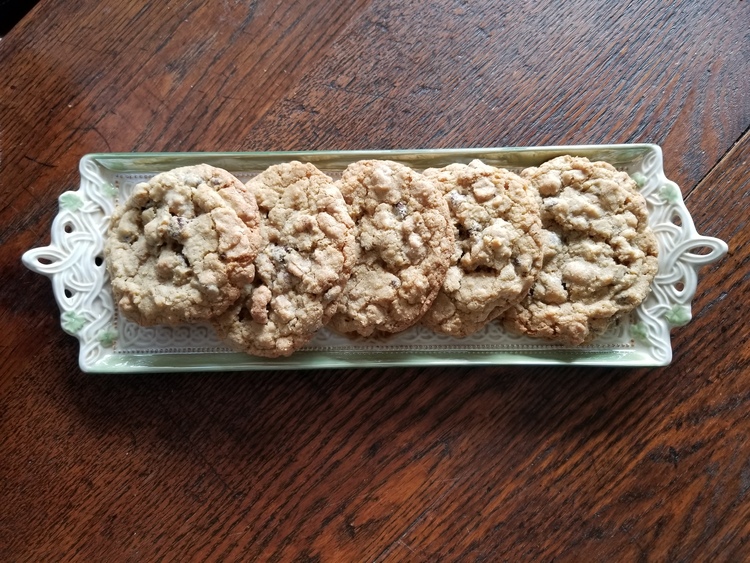 E.L Bowman, "The Old Stage Librarians"
Being transplants to this small town, Ms. Eve was a stranger who we later wished we could claim as family member, as a beloved grandmother or dear aunt. She had the softness of a comforting chair that could envelope you in warmth on the coldest day and the welcoming smile of someone who could be unwearied by a hyper puppy. The type of woman who would hold your treasured rocks in her pocket and surprise everyone with the loudest cheers from the stands. She was a librarian.
The library is the lifeblood of Old Stage. Old Stage is a small town without much activity. The small town was going through its own season of life, like the moon wanes but with hope that the next phase will be brighter. Once a cornerstone of the county, the town kept its charm by not building up with mega malls and super centers. It was hard to keep a town flowing with visitors with only history for sale.
The captives, otherwise known as the townies, are lost in their own lives and too busy to notice the secrets hidden for centuries in their little town. They knew plenty about their neighbors. Which newcomer moved into which neighbor's house that used to be their sister's or cousin's. The Old Stage teens had to date people from other nearby towns because one too many times they brought a cousin home to meet their parents. The local festival was like a large family reunion with a smattering of the older generation that were never short of tales about "potatoes fried in tallow" at the 50-year-old food stand. Too many Johnny-come-latelys littered the town now they would say; just trying to find the quiet not knowing the past and secrets of the small town.
It was at the local market that I first saw Ms. Eve as someone other than a librarian. She had her frozen tater tots and boxed macaroni and with her usual affectionate smile she told the cashier my family was among her favorite library patrons. No doubt it was because my kids checked out their favorites repeatedly and chatted sweetly offering a divergence from the usual tasks of reshelving books and pulling requests for the greatest generation of readers who still lived in the town. It was on this cold day that she said something that piqued my interest in her and the library.
As we were walking out, we exchanged pleasantries and well wishes, and she said she was in desperate need of rest after her Sunday at the library. Jokingly I asked if the volumes of War and Peace, Moby Dick and The History of Don Quixote were weighing down the carts of our small-town library. With a certain knowing glance, she turned and said, "just keeping the unwanted past of Old Stage tidy in the basement."
 Truth unearthed; it was Eve and the other librarians of Old Stage that held the real secret of the small town.
Stay tuned for the next MLCPL Quaranzine issue! Submit your own work for the next issue today to Sarah Ryan at ryansa@marylcook.com.