EVENTS:
CAN YOU CRACK THE CODE?
Tuesday, September 10 @ 6:30 - 7:15 pm.  Escape room for Kindergarten and 1st grade.  We will race against the clock to solve puzzles, crack codes, and unlock boxes to save the day.  Registration is required and limited to 16.  Sign up beginning August 26 to reserve a spot.
WATER SCIENCE FOR PRESCHOOLERS
3 yrs. - K and a caregiver on Friday, October 4 from 4:00 - 4:30 pm.  We will be exploring water with several hands-on activities. All children should bring an adult with them.  Required registration will begin September 16. ?'s - please contact Kathy Daniels @ 513-897-4826.
HALLOWEEN PAPER CIRCUITS
Grades 3 -5 on Tuesday, October 8 from 6:30 - 7:15 pm.  Come and make your own light-up card.  You will add working lights using copper tape and LEDs.  Registration is required and will begin September 23. Call 513-897-4826 to register.

       READING PROGRAMS:
PRESCHOOLERS THROUGH 5TH GRADERS...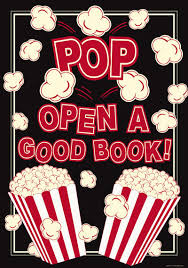 POP OPEN A GOOD BOOK
Check out five books at the Mary L. Cook Public Library during September and you'll receive a chance for a hot prize (appropriate for your age - preschoolers - 5th graders).
DROP IN STORYTIMES
Aimed at
3 yrs. - 6 yrs.
but all ages accepted.  Drop in
Monday evenings 6:15 - 6:35 pm or Tuesday mornings 10:00 - 10:20 am.
  Join us in the children's room for a few stories, fingerplays, and laughs.  Questions – please ask Miss Kathy 513-897-4826.
PRESCHOOL STORYTIMES
 For 3 - 5 year olds, including kindergartners on Thursdays 10:30 - 11:15 am or Thursdays 6:45 - 7:30 pm beginning Thursday, September 19. Registration is requested and is open now. We play games, sing songs, hear stories, and share laughs.  Special Storytimes include Halloween Parties, Easter Egg Hunts, and more; watch for details.
NEW TODDLER TIME
For ages 24 months - 36 months & their caregivers on Tuesdays from 10:30am - 11:00 am. Join us for this new program of activities and fun for your little ones!  We will read a story of two and do fun activities each program.  These sessions involve parents as active participants.  This program involves messy fun; dress accordingly.  Required registration begins September 16. Toddler Time begins October 15. Limit - 12 toddlers & 12 caregivers.
BABY BOOKWORMS
Birth - two years & caregiver. Wednesdays 10:30 - 11:00 am.  Begins Oct. 2.   Enjoy great books for babies, learn fun songs and rhymes, and meet other families in your neighborhood.   Parents/caregivers are expected to stay with children during all sessions.  If you have questions, please call Kathy Daniels - Youth Services.
CHAPTERS BOOK CLUB
Grades 1 and 2.  This group will read one short chapter book a month, and then meet to discuss the book, the author, and do activities associated with the book.  The Chapters book club will hold its first meeting on Tuesday, September 17 from 4:00 - 4:45 pm.  Registration is required and is open now. Books should be ready to pick up at this time as well.
RAPID READERS & WRITERS BOOK CLUB
Grades 3 – 5.  Join us on Tuesday, September 24 from 4:00 - 5:00 pm as we discuss books, play games, try out a bit of creative writing, and enjoy a light snack. Registration is required and will be available the end of August.  Books should be available to pick up the beginning of September. Class is currently full.
LOOK WHO'S READING BOOK CLUB
Grade K on Tuesday, September 24 from 6:00 - 6:30 pm.  The group will engage in a variety of fun learning activities featuring phonics, the writing of letters and words, and many other skills that promote a strong literacy foundation.  Registration is required and is open now. Books will be available to pick up the beginning of September.
1000 BOOKS BEFORE KINDERGARTEN
In August 2014, the Mary L. Cook Public Library launched a new literacy program, 1000 Books Before Kindergarten.  We have 31 readers who have completed the goal of 1000 books! If you read your child one book a day, she/he will reach 1000 books in under three years.  Though the goal of this program is to improve literacy skills, but even more, it's about time spent together reading.  Stop in today and ask us how to register your child for this program.
***SEE WHAT'S AVAILABLE FOR CHILDREN AT THE OHIO DIGITAL LIBRARY - https://ohdbks.overdrive.com/library/kids